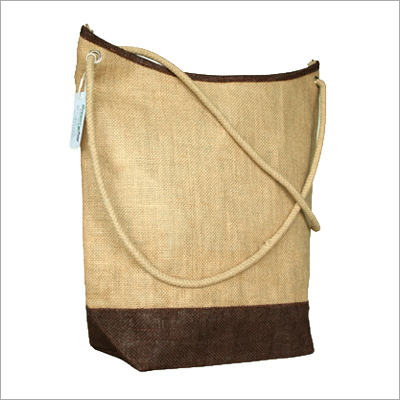 Jute Designer Bags
Product Code : GB-117
Product Description
Jute Designer Bags
GB-117: 37x34x13

We offer scintillating range of Jute Designer Bags that is exclusively crafted and designed using genuine jute sourced from reliable vendors of the market under the guidance of adept professionals. These bags are available in different colors, prints, sizes and can be customized as per the requirements of the clients. The entire selection of Jute Designer Bags is renowned for good load bearing capacity, durable prints and eco-friendliness. These are offered at rock-bottom prices within promised time frame.
Specifications:

Fabric: Laminated Jute
Colour: Natural and Brown
Handles: Rope handles
Our Jute bags can be customized on the parameters of:

Size, Cut, Color, Design, Ink, Handles (cane handles, webbed tape handles, fancy rope / nylon handles).

Jute Properties:

Jute is a very strong natural plant fibers that can be utilized for different purposes. After cotton, Jute is the most important vegetable fibers in terms of use, availability, global consumption and production. Some of the advantages of this fiber are:

100% bio-degradable & recyclable and hence environmentally friendly
1 hectare of jute plants can consume around 15 tons of CO2 and release around 11 tons of oxygen during the jute growing season
Requires 10 to 20 times less energy in the production, as compared to the production of polypropylene fiber
A renewable resource with a high rate of production per hectare
Can be blended with other fibers, both synthetic and natural, and accepts cellulosic dye classes such as natural, basic, vat, sulfur, reactive, and pigment dyes
Produces top quality yarn, fabric, and sacks
Good for toting food items the Jute bags can resist high temperature.
Jute has a quality to be blended with other fibers, including natural and synthetic, also it accepts various dyes.
Amongst most versatile natural fibers used for packaging, textiles, and agricultural sectors
Can be combined with cotton easily; can also be blended with wool
Combined jute/cotton blends may produce fabrics with a reduced cost of wet processing treatments

Some of the salient features of jute bags are as follows:

Easy to carry and comfortable to handle
Excellent wearing capacity
Eco friendly and bio-degradable characteristics
Inexpensive bagging solutions
Opulent and trendy look
Resistant to Bursting even due to heavy load
High tensile strength & Low extensibility
Better breath-ability as compared to synthetics
Good insulating and antistatic properties
Low thermal conductivity
Moderate moisture retention power
It can be manufactured without any skin irritations to the workers